Newsroom
DCFS Celebrates Fourth Year of Record Number of Adoptions
Families and children honored at reception today
BATON ROUGE - For a fourth consecutive year, more families have adopted Louisiana foster children than in the previous year. Between October 1, 2012 and September 30, 2013, more than 500 families adopted 733 foster children through the Louisiana Department of Children and Family Services (DCFS).
"This past year we had a large number of sibling group adoptions which is an incredible thing to witness and be a part of," said DCFS Secretary Suzy Sonnier. "Louisiana families continue to show their support year after year by opening their hearts and homes to nurture and guide these children, to keep brothers and sisters together, and to give children the greatest opportunities for success."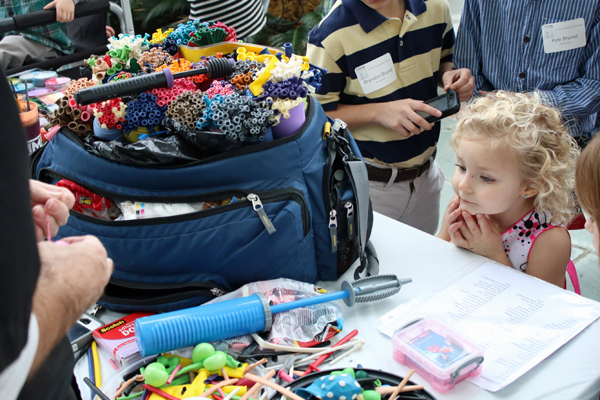 Hanna Miller, the adopted daughter of Sheri Miller of Houma, watches as Chris Pierce , The Party Artist, twists and turns balloons into art. The Miller family was one of about 60 families who celebrated today at the Governor's Mansion.


Last year six Louisiana families each welcomed five children into their lives, another six families adopted four children each, and 43 families adopted sibling groups of three.
Governor Bobby Jindal proclaimed November as Adoption Awareness Month, noting that adopted children come "to know the benefits of the permanence that is central to a sound home life provided by a loving family."
One goal of Adoption Awareness Month is to recruit new foster and adoptive parents. Currently, there are more than 3,900 children in foster care. As of the first of November, 458 of these children have been legally freed for adoption and of them, 131 are still seeking adoptive families.
Louisiana families who adopted foster children last year celebrated Adoption Awareness Month and were honored at celebration held at the governor's mansion this afternoon. The 15th annual adoption reception featured children's entertainment, face painting and balloon animals. The St. Michael the Archangel High School Jazz Band also performed.
DCFS Secretary Sonnier presented the agency's annual Adoption Advocate Awards at the event.
KTVE NBC Channel 10 in Monroe was honored with the Media Advocate Award. Since February 2012, KTVE has showcased children and youth available for adoption in Northeast Louisiana on its morning show segment Tuesday's Child, a once a month morning segment. Sonnier said that KTVE's segment has been a valuable tool in raising awareness for child specific recruitment in the Monroe region.
Ryan Ardoin, of Houma, helps his adopted sister, Charlie, with her shoe at DCFS' 15th annual Adoption Reception Thursday at the Governor's Mansion. The pair, the children of Carrie Ardoin, also have another adopted sister, Ryan and a brother Kollin.
Sonnier also presented the Individual Advocate Award to Elijah Evans of Youngsville and the Community Advocate Award to Healing Place Church in Baton Rouge.
Evans, a 15-year-old former foster child, began No Use for Abuse, Inc., in 2011 as a school project. No Use for Abuse is dedicated to bringing attention to the impact abuse and neglect has on a child and promoting awareness of children in the foster care system available for adoption. Evans rallied media and local artists to assist him in raising funds to fulfill dreams of many foster children. In December, No Use for Abuse hosts a holiday party and provides gifts, food, games and activities to the foster children in attendance.
Evans has recently been nominated for the National Angels of Adoption Award.
Healing Place Church has assisted the Baton Rouge region in recruitment activities for foster and adoptive parents by purchasing graduation supplies for foster youth graduating high school, donating toys for Christmas, offering its facilities for events and by showing unwavering support of DCFS' efforts. This past May, Healing Place offered its professional photographer so that the region's children available for adoption could be photographed and highlighted at the Louisiana Family Forum's "Over the Edge for Adoption" event in downtown Baton Rouge. Healing Place expanded its involvement in July by hosting a pre-service training class for three regions - Baton Rouge, Covington and Thibodaux.
Ethan Frosch has his face painted by Susan Pierce of the Party Artist while his adoptive mother Michelle Frosch watches.
Foster and adoptive parent Teri Hrabovski also spoke about her journey as a foster parent to more than 30 children, as well as an adoptive parent.
"We are very thankful for the families who have made this commitment to Louisiana's children. Ensuring children are safe and in stable, loving, permanent families is our top priority at DCFS," said Sonnier. "We hope this reception and the other adoption events statewide inspire individuals and families to make a difference by becoming foster and adoptive parents."
Earlier this year, DCFS launched its Faith In Families Initiative which seeks to safely reduce the number of children in foster care, decrease the amount of time spent in the system and ensure that each child has a permanent connection when they leave foster care.
DCFS participates in year-round recruiting efforts for foster and adoptive parents by holding orientation meetings each month across the state. For additional information on the schedule of orientations, as well as qualifications, the certification process on how to care for a child or children temporarily and life as a foster family, visit
www.dcfs.la.gov/foster
.
(Editors: Click the photos for large versions that can be used in your publications. Please credit the Louisiana Department of Children and Family Services.)
-30-